Welcome
Featured Article
May
May (メイー, Mei) is a young, cute, and spunky member of the Jellyfish air pirates that is utterly dedicated to Johnny, the leader of the pirates and the man who raised her after she was orphaned.
May is a cheerful and energetic girl. Because of her age, she is innocent of many things in the story and this causes her to be very honest in her speech. Her motivations revolve around cherishing her family, the Jellyfish Pirates and getting Johnny's attention. Though she is childish, she is a capable leader as she is in-charge of the ship whenever Johnny's absent; however, she sometimes neglects her duties when she's concerned with his safety. She also worries that her origins might somehow endanger her family one day.
Guilty Gear Wiki Rules, Policies and Guidelines
Before you start writing or editing, please check out these wiki Policies and Guidelines.
Helping out
Not sure where to start?
Adding content
Talk and more...
Check out the community portal to see what the community is working on, to give feedback or just to say hi.
Featured Quote
"
I have no time to waste on someone who fights without conviction. A battle without hostility is its own kind of horror.
"

–Potemkin (vs. Slayer) in Guilty Gear Xrd: Revelator
Featured Video
News
Who's your Main Character?
Results:
| Rank | Name | Votes |
| --- | --- | --- |
| 1st | Sol Badguy | 17.95% |
| 2nd | Ky Kiske | 10.26% |
| 3rd | Millia Rage | 9.4% |
Full Results:
A.B.A
3.42% of all votes

Anji Mito
2.56% of all votes

Axl Low
1.71% of all votes

Baiken
2.56% of all votes

Bridget
5.13% of all votes

Chipp Zanuff
3.42% of all votes

Dizzy
8.55% of all votes

Eddie
2.56% of all votes

Faust
1.71% of all votes

I-No
1.71% of all votes

Jam Kuradoberi
4.27% of all votes

Johnny
1.71% of all votes

Justice
0.85% of all votes

Kliff Undersn
0.85% of all votes

Ky Kiske
10.26% of all votes

May
2.56% of all votes

Millia Rage
9.4% of all votes

Order-Sol
2.56% of all votes

Potemkin
0.85% of all votes

Robo-Ky
3.42% of all votes

Slayer
4.27% of all votes

Sol Badguy
17.95% of all votes

Testament
2.56% of all votes

Venom
3.42% of all votes

Zappa
1.71% of all votes
Poll
What's your favorite Game?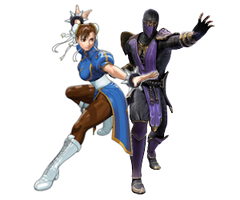 Fighting Games
Go to these sites for info or for help with your own wiki!
Bloody Roar • Capcom • Darkstalkers • Guilty Gear • Injustice: Gods Among Us • Killer Instinct • Mortal Kombat • M.U.G.E.N • Punch-Out! • Skullgirls • Smash Supreme • SNK • Soulcalibur • Street Fighter • Super Smash Bros. • Tekken • Virtua Fighter
Want your community included? See how!

Ad blocker interference detected!
Wikia is a free-to-use site that makes money from advertising. We have a modified experience for viewers using ad blockers

Wikia is not accessible if you've made further modifications. Remove the custom ad blocker rule(s) and the page will load as expected.